This month we met at the cafe in the lobby of the Courtyard by Marriott in Cocoa Beach. We came back here because of the free EV chargers right outside in the parking lot. We make sure to let the manager and staff know that all of this business was brought in because of those chargers and that they are paying for themselves. If you want to know more about the different kinds of charging stations, how they work, and how to get them installed at your business to bring in more customers, visit our charging station info page here.
We went over the last event that was just held at FIT, Camp Epic. Children ages 11-14 got to see a few EVs up close, ask questions about them, and learn about them with Mars and space themed activities.
Everyone requested another order of window decals that stick inside the glass for our members. This is because we keep sticking business cards on cars that are already in the club. If we had a window decal we would know they were already in the club. These stickers have been ordered using club funds and ready to give out. to members.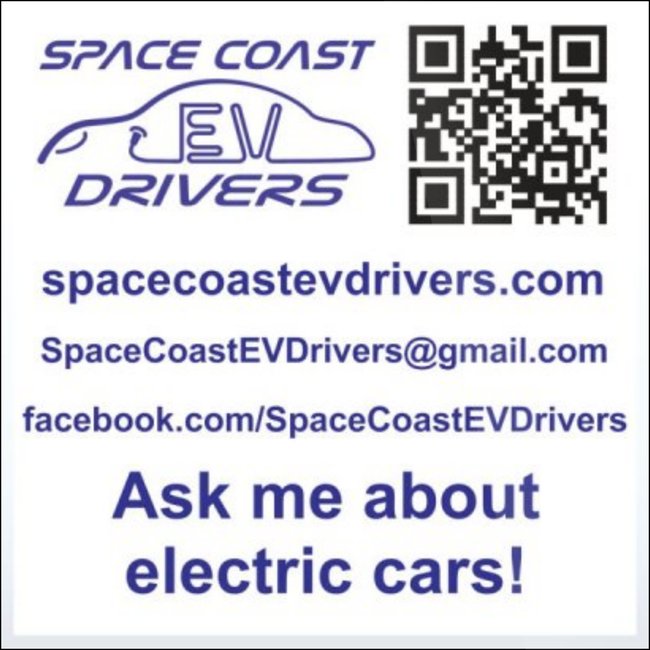 We also said hello to our newest member, Adam. He already has been driving a Chevy Volt for some time and found our group. That brings up our total membership to 120 EVs and 131 members.
Next month's meeting will be at Squid Lips in Eau Gallie. There is a charging station next door at the library. We like to remind the manager that installing more charging stations at the restaurant would bring in even more business.
The main focus of the meetup was to make sure everyone had tasks for getting ready for National Drive Electric Week (NDEW). This is the last full month we have for planning it and getting the word out. Our flyer is ready and we are contacting newspapers, radio stations, and news outlets to really get the word out. We'll be recording a Coastal Connections with WFIT a few weeks before the event as well. If you haven't signed up to attend the Satellite Beach NDEW for Saturday Sept 14 please go to our official event page and do so here. The Space Coast EV Drivers will be doing the work for setting up and planning that event. There will be a second NDEW event the following Saturday Sept 21 in Cape Canaveral at the Manatee Sanctuary Park. The city will be planning and preparing that event so the Space Coast EV Drivers will only need to bring our cars for the Q&A and ride and drives. Sign up for that event on the Cape Canaveral NDEW official event page here. We hope to break more than 70 EVs in one place this year so if you want to see many different makes and models of EVs in one place at one time this is the event you've been waiting for. We'll see you in September!