We were invited to the Space Coast Motor Officers Car, Truck, Motorcycle and Craft Show supporting the Special Olympics of Florida.  This year the show was held at the American Muscle Car Museum located just south of the Melbourne Greyhound Park off of Sarno Road.  We were very surprised to see the solar panels all over the place.  We agreed there had to be enough to generate more than what the museum uses.  We were even more surprised to see the charging stations in the parking lot for electric cars!
There was one station on each side of the front door and each station had two plugs for a total of four charging spots.  They were absolutely free to use since the power was coming from the solar panels.  There was no card swipe or buttons to press on them at all.  Just plug in and start charging.  Easy!
We like to explain to everyone at our public Q&A events about some of our members having solar panels on their house they then use to charge their car.  We explain how they drove to today's event on pure sunlight.  Now once you can plug into solar charging like this at the place you were going to (like the Muscle Car Museum) you can drive back home on pure sunlight too!  This is the "golden ticket" that needs to be spread around and installed at other places where you'd park for an hour anyway too: movie theaters, shopping malls, and everywhere people work.
There were trophies for the best in show, best car, best truck, etc.  And proceeds from registration fees went to the Special Olympics of Florida.  A very worthy charity!
There were several rows of show cars from almost every era.  There was even a British car from the 1930's with right hand drive!  Check out the full photo album at the link below to see it!
There were several booths set up from local crafters where you could buy things like hand made purses, scarves, and jewelry among other things.  We had our table and tent set up like normal to hand out informational sheets and business cards while answering questions from gearheads about electric drive trains.  They were very excited when we told them about the all electric Zombie 222.  Made at Bloodshed Motors in Austin Texas (bloodshedmotors.com), it's a 1968 Mustang Fastback with all of the drive components removed and replaced with batteries, controllers, and two very large DC motors.  It can do 0-60 MPH in 1.79 seconds!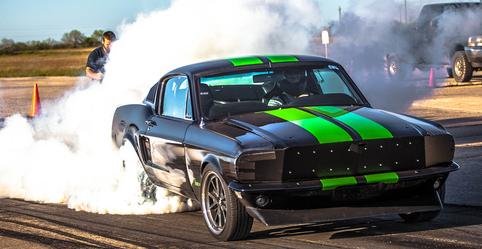 We had a great time there and even got a great idea to check and see if we could have our Drive Electric Week event here.  It makes a lot of sense because there's plenty of room and they have solar powered charging stations to show to everyone!
Remember to check our upcoming events page to see where we'll be next and come out to ask your questions about driving electric!
Here's a link to the FULL ALBUM with tons more pictures of individual cars from the show as well as a few surprising cars: https://goo.gl/photos/jwmMRiyXWjkaNAEn7